Trial shows promising results on maintaining the quality of cod side-streams
Preserving the quality of the seafood side-streams throughout the value chain is a prerequisite for exploiting the side-streams for high valuable purposes. This is a challenging task as seafood side-streams tend to deteriorate quite rapidly if not handled correctly.
In WaSeaBi we are working on solving this challenge by among other things developing storage solutions, including intermediate storage solutions at sea, on the production sites and during transportation.
In August, the first large scale trial with cod side-streams was initiated with the aim of improving oxidative stability i.e. maintaining the quality and thereby the shelf life of the side-streams by adding antioxidants.
For the trial a total of 15 kilos of cod frame, 15 kilos of guts and 30 kilos of heads were transported to the Technical University of Denmark's lab from Royal Greenland's production site in Maniitsoq, Greenland.
Approximately 100 kilos of saline solutions with different antioxidant preparations have been prepared for the experiment. Furthermore, cold storage experiments with guts have been conducted and are currently being analysed.
- The preliminary data is showing promising results as we have seen positive effects of the antioxidant treatments in the cold storage experiments that have been analysed so far, says Ann-Dorit Moltke Sørensen, Senior Researcher at the Technical University of Denmark.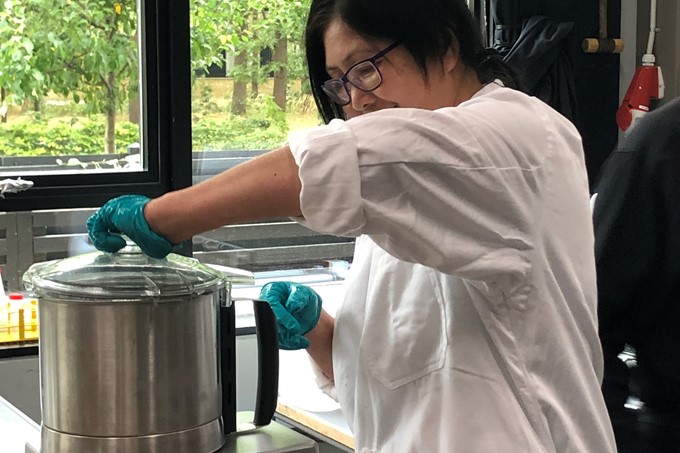 Photo: Samples are being chopped in the lab
- This is very good news as some of the antioxidant treatments reduce the oxidation reactions and increase the oxidative stability which means that the quality of the side-streams can be preserved and probably also prolong the shelf life, Ann-Dorit explains.
Next in line are cold storage experiments with cod heads and frames as well as storage experiments at frozen condition. The experiments are expected to be finalised in 6 months.