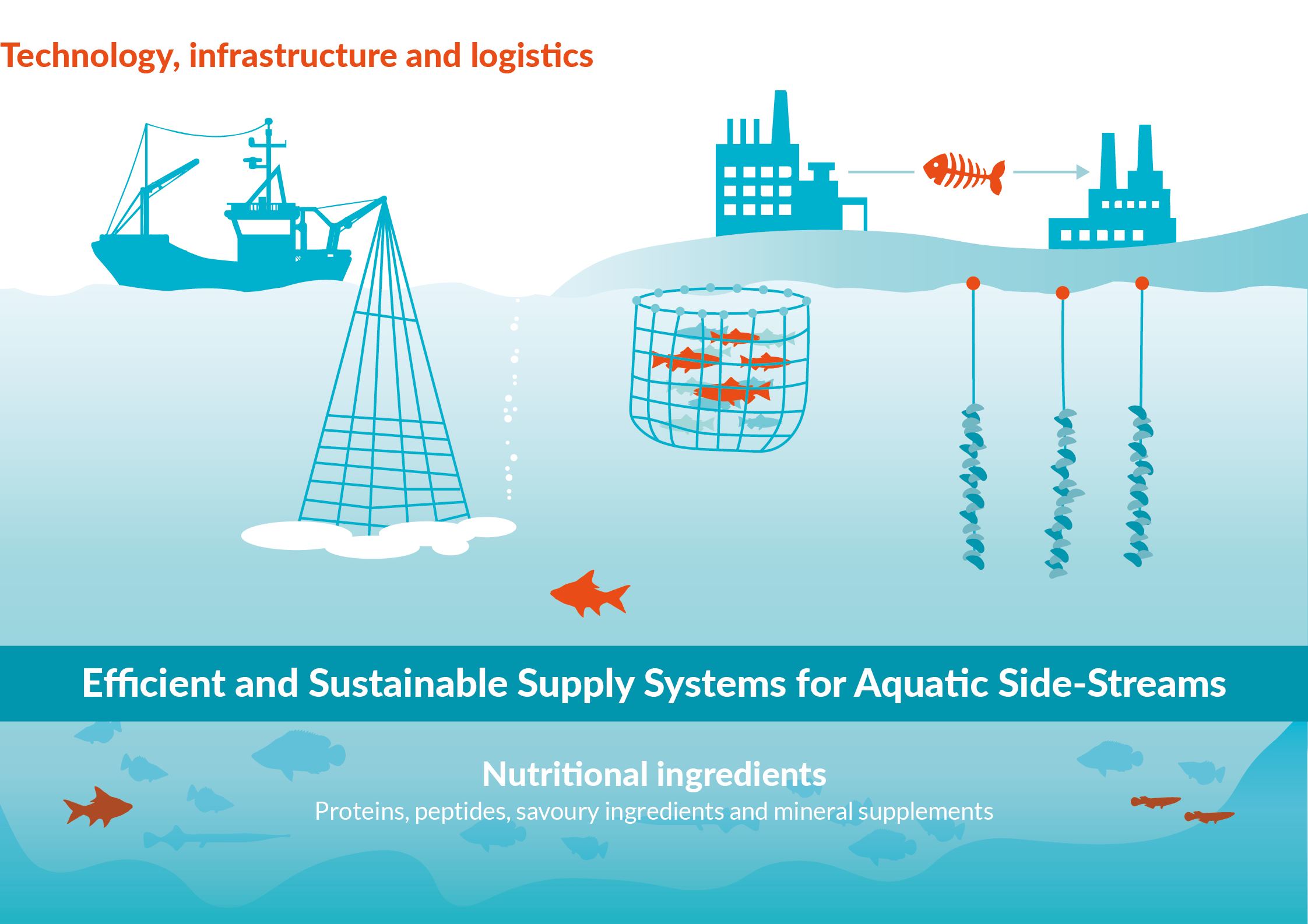 About the project
WaSeaBi is an EU-funded project that aims to develop and test new concepts, which will ensure that side-streams from aquaculture, fisheries and aquatic processing industries can be exploited for production of new products and ingredients.
The current exploitation of the aquatic biomass is much too low. Up to 70 % of the aquatic resources end up as side-streams, which are either used for low-value purposes such as animal feed or disposed of, which is costly for the companies involved. This calls for a more sustainable and commercially attractive exploitation of the fish and other aquatic products. WaSeaBi takes up this challenge.
How will we solve the challenge?
WaSeaBi will optimize the utilization of seafood side-streams by developing storage solutions, sorting technologies and decision tools that will secure an efficient, sustainable supply system for by-catches, and side-streams from aquaculture, fisheries and the aquatic processing industries. This will enable valorisation of these raw materials into marketable products. By addressing side-streams from 6 different raw materials representing typical aquaculture, fisheries and aquatic processing industries in Europe, WaSeaBi will take a whole chain perspective to succeed with high quality production of:
bioactives peptides for nutraceutical, food and feed application
protein-based food ingredients
savoury ingredients and mineral supplements for food and feed.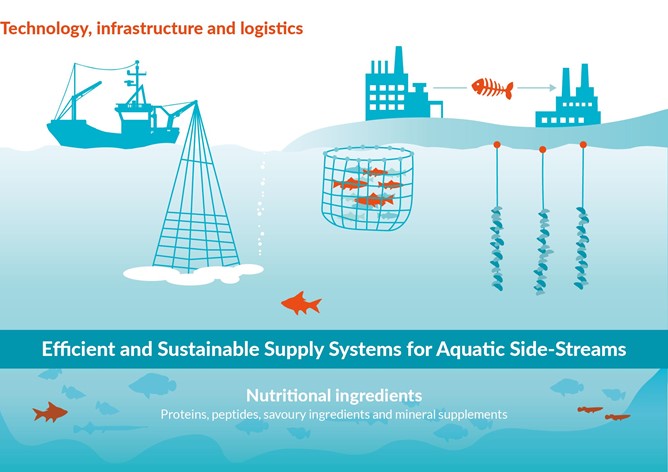 Detailed objectives
To identify hurdles and bottlenecks that prevent exploitation of side-streams according to the processes selected in WaSeaBi
To develop improved sorting and storage technologies for side-streams to use in house and during transport
To develop tools for supporting decisions for valorisation of side-streams
To develop guidelines for optimal logistics throughout the supply chain
To offer more high-quality side-streams to biobased industries
To develop/implement innovative processes for production of new ingredients from high-quality side-streams
Development of biorefinery concepts for the valorisation of seafood side-streams
Demonstration of the potential for integrating the developed concepts into the current industrial landscape of the participating industries
Quantify the environmental, economic and social impacts of the studied value chains, processes and products in order to guide the consortium in the development of feasible solutions though preliminary life cycle assessments
To maximize the influence of the project results both during and after the project by targeting project partners, enterprises within the fisheries industry, knowledge institutions, innovation networks/clusters, associations, the scientific community, as well as policy makers and regulators at a regional and European level
Expected results
At least 2 hurdle/bottlenecks will be identified per type of side-stream.
Solid herring filleting side-streams are successfully sorted into at least 3 separate fractions and at least 3 new storage methodologies for seafood side-streams will be presented to primary fish/shellfish processors and to transport companies.
Decision tools are developed and tested by at least 2 companies
Guidelines developed and tested by at least 2 companies
At least 3 high quality side-streams are made available to biobased industries when the project ends
Produce at least 6 marketable food ingredients from side-streams
Develop at least 4 side-stream processing concepts
Positive evaluation of the biorefinery concepts (both during trials and in feasibility studies) for at least 3 of the 5 trials.
The processes developed are economically profitable and have a better performance than current market options in environmental and social terms.
6 exploitation plans for specific solutions are created. The project results are disseminated through at least 12 newsletters, 5 press releases, 10 presentations at international conferences /seminars in addition to several seminar talks at the different universities/research institutions.