The WaSeaBi project ends with promising outcomes
After more than 4 ½ years of intensive research activities, the WaSeaBi project is now coming to an end on 31 October 2023 and with this article, we would like to take the opportunity to highlight some of the many achievements obtained in WaSeaBi.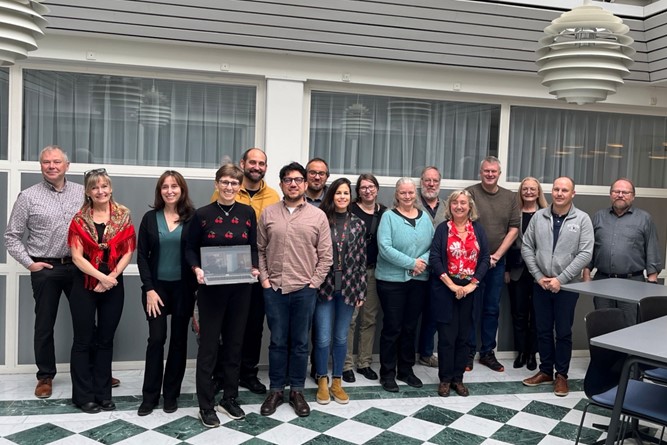 Group photo from the final partner meeting in October 2023 in Copenhagen


Implementation of a sorting technology for herring, which allows Sweden Pelagic to separate herring into head, backbone, viscera + belly flap, tail in addition to the fillet. The new side-streams have already formed the basis for new products based on mince from herring backbones at Sweden Pelagic. The mince is sold to school kitchen amongst others.


Development of antioxidant dipping technologies based on rosemary extract, which enables the preservation of the quality of seafood side-streams so that they can be used for production of high quality food ingredients. The antioxidant technology has already been implemented for preservation of herring solid side-streams at Sweden Pelagic.


Evaluation of the pH shift technology to recover proteins from herring side-streams has been conducted at Sweden Pelagic.


Development of a savoury ingredient from mussel cooking water using membrane technology, which at the same time reduces the environmental load of the process water. The technology is implemented at Pescados Marcelino in Spain.


Development of savoury ingredients with umami flavour from cod, herring, hake and salmon solid side-streams by the use of enzyme technology. The technology has been upscaled to pilot scale at the facilities of Barna in Spain.


Development of protein hydrolysates rich in antioxidant peptides from cod and hake. The technology has been tested in pilot scale at AZTI's facilities.


Evaluation of flocculation and separation technologies to recover protein and/or phosphorus from process waters from herring or cod filet production. The technologies have been evaluated at Jeka Fish in Denmark and at Sweden Pelagic.


Development of decision tools that can guide industry when making decisions on how to use their seafood side-streams. The tool includes an evaluation of the technical, legal, environmental and economical aspects of the process to produce a new ingredient. The tool has been developed by AZTI, Ghent University and DTU and has been tested on some of the industry cases in WaSeaBi.   


An EU regulatory guideline, which can be used by industry when developing new ingredients from seafood side-streams.   
On this website you can read more about these results as well as find videos that illustrate some of the tools developed. 
Finally, we want to thank the many followers of our newsletter and website as well as our followers on LinkedIn and Twitter. The WaSeaBi website will be kept online for another 5 years and you will be able to read about updates regarding the scientific manuscripts from WaSeaBi, which will be published in the coming years.