The hidden values in seafood side-streams
On 27 April 2022 four representatives from the WaSeaBi consortium presented results from the project at this year's Seafood Expo Global in Barcelona.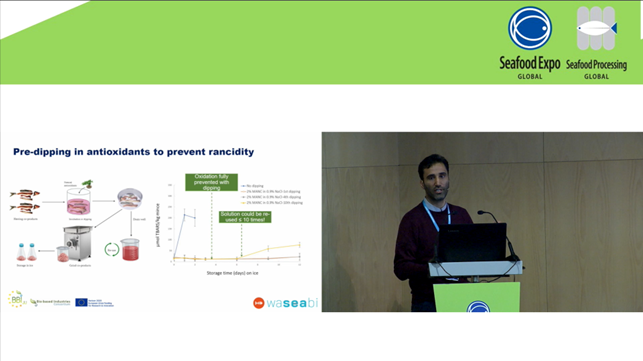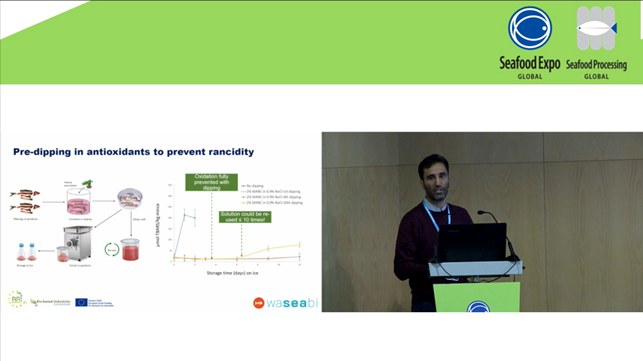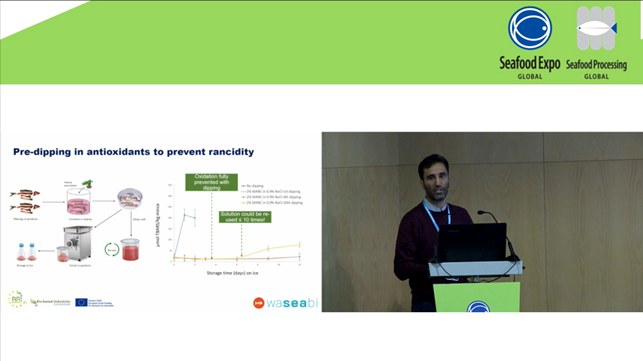 The sponsored presentation was titled: The hidden value in the side-streams and covered the following topics:
Would you like to turn the side-streams from your seafood production into high value ingredients?
Hurdles and bottlenecks that prevent exploitation of side-streams from different seafood productions will be discussed.
Innovative sorting and stabilizations technologies for seafood by-products
Scalable and innovative technology for sorting of herring by-products and a dipping technology for stabilization of herring and cod side streams as prerequisites for value addition of these resources will be presented.
Technologies for obtaining added value ingredients from seafood processing by-products
Application of enzyme technology and membrane filtration in the recovery of valuable compounds from salmon, hake and mussel processing side-streams will be presented.
Upcycling seafood by-products to gel-forming proteins and marine oils at cold
Most recent developments in the value addition of seafood by-products to gel-forming proteins and marine oils at low temperatures using the pH-shift technology will be presented.
Market applications for seafood processing side-streams: from nutraceuticals to feed
An overview of the market possibilities in the food and feed sector for compounds obtained from seafood side-streams will be given: bioactive peptides, mineral supplements, savoury compounds.
The four representatives from WaSeaBi who gave the presentation were: Mehdi Abdollahi from Chalmers University of Technology, Carlos Bald and Jone Ibarruri Zamakona from AZTI, Grethe Hyldig from DTU - Technical University of Denmark
See the presentation below.