Spreading the word about WaSeaBi
WaSeaBi attends their first event - the Blue Bioeconomy Forum conference in Brussels.
After only one month into the project the WaSeaBi project partners are already seizing every opportunity to spread the word about the project. On 25 June two representatives from WaSeaBi participated in the second Blue Bioeconomy Forum conference in Brussels to present the WaSeaBi project.
The conference is organized by the European Commission and brings together key stakeholders from the blue bioeconomy sector including academia, industry and public authorities. Around 140 people participated in the event, where WaSeaBi was present with an exhibition stand. At the exhibition stand the two WaSeaBi representatives, Geert Bruggeman from Nutrition Sciences and Iben Bang-Berthelsen from DTU, had the opportunity to display and hand out information materials as well as answer different questions related to the project.
"Many people visited our exhibition stand and took a flyer. Out of 50 flyers only 5 were left at the end of the day" Iben Bang-Berthelsen says. "People generally wanted to learn more about the WaSeaBi project, but also about the challenges that WaSeaBi has identified as being the main obstacles for a better exploitation of the aquatic side-streams. And of course, they were also interested in learning about how we will solve these challenges" Iben adds.
According to Iben the majority of the BBI Blue Bioeconomy projects are on micro algae and therefore there was a great interest in WaSeaBi's alternative focus. The Blue bioeconomy roadmap has also previously been very focused on micro algae production; however, this has also been included in the upcoming roadmap.
Identifying new challenges and opportunities
The aim of the Blue Bioeconomy Forum is to develop a shared understanding of the current status of the emerging blue
bioeconomy in Europe and to collectively identify strategic developments, market opportunities, appropriate financial assistance, regulatory actions and research priorities to advance the blue bioeconomy in Europe. The conference included plenary sessions with invited speakers from the public authorities, specific topic/project sessions, one-to-on meetings and discussions.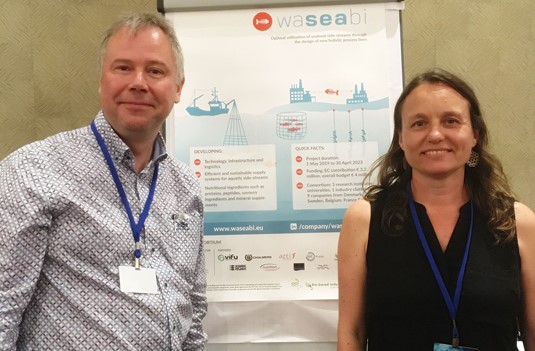 Photo: From the left, Geert Bruggeman from Nutrition Sciences and Iben Bang-Berthelsen from DTU
"There was a discussion about the challenges and opportunities in relation to topics identified in the upcoming Blue bioeconomy roadmap, where some of the major challenges identified were lack of valorisation of side streams, logistics, unclear procedures of novel food status and obtaining licenses and permits – these are all topics that will be addressed in the WasSeaBi project" Iben explains.

To sum up, Iben Bang-Berthelsen and Geert Bruggeman concluded that the Blue Bioeconomy Forum conference was an excellent opportunity to generate some publicity about WaSeaBi and to network.